It is important to trust your medical supplier, and Elite Home Medical and Respiratory's patients know that they receive the right equipment at the right price – little to no cost. For more information, call our specialists at (866) 380-1652 or qualify online.
Below are some of our most popular CPAP and BiPAP masks:
Nasal Masks
DreamWear Nasal mask by Philips
DreamWear masks look different because they are different. Designed to feel like you're not wearing a mask at all, 1-3
DreamWear's revolutionary design features minimalist tubing that runs from the top of the head to under the nose, so you can have the freedom to sleep in the position you're most comfortable in1-3.

Flexible over-the-head frame compatible with nasal, pillows, and full face cushions

Designed for simplicity of use

Open-face construction for clear and natural line of sight when awake

Users felt they experienced more freedom of movement with the DreamWear than their prescribed mask.1-3
Design prevents red marks, discomfort and irritation on the nose bridge.6
Easy to wear and remove your glasses to read or watch television before bed1-3
Wisp by Philips
The Wisp Standard Pack comes with 3 cushion sizes (small/medium, large, and extra large), Fabric frame, standard headgear, and magnetic clips.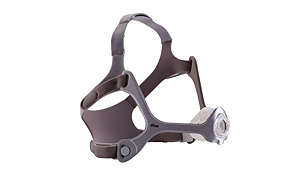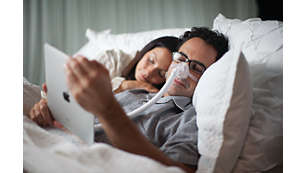 Wisp's sleek design eliminates the need for a forehead pad, offering you a better field of vision.
The 'tip-of-the-nose' cushion is designed to sit below your nose bridge, making minimal contact with your face while creating a superior seal. * Confirmation via the anthropometric database
Eson 2 by Fisher Paykel
Eson 2 was designed to meet the needs of patients and sleep professionals, at every important milestone in the CPAP therapy journey. To improve on a mask designed for performance and comfort, our development team focused on features to enhance ease of use – The Intuitive Headgear for example provides fitting options for patients, including the ability to stretch the mask directly over the head.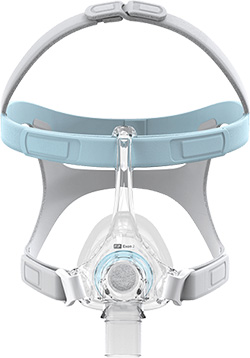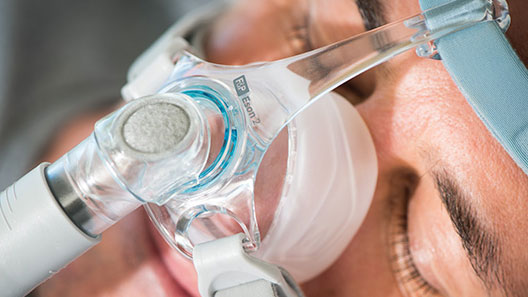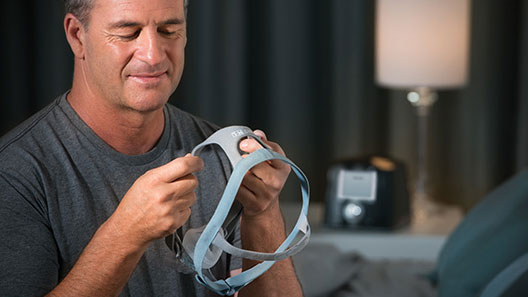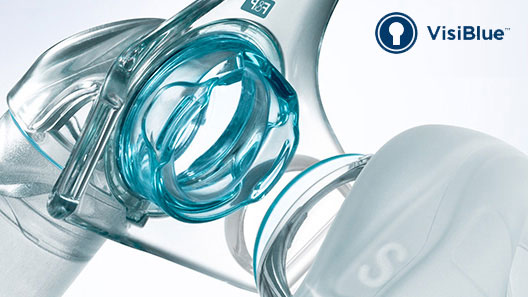 Incorporating VisiBlue™ highlights
F&P Eson 2 features VisiBlue™ highlights to provide visual cues for simpler, quicker and more intuitive patient education and to aid the patient in fitting, disassembly and reassembly.
Evora by Fisher Paykel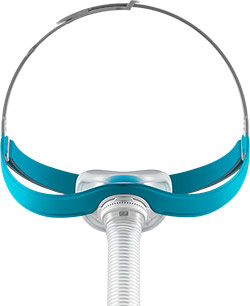 Unlike any other mask, F&P Evora™ incorporates CapFit headgear that has been designed to be put on like a cap - a simple and intuitive movement that patients are familiar with.
Nasal Pillows
DreamWear Pillow by Philips
The DreamWear silicone pillows CPAP mask is designed to let you sleep more comfortably with an exceptional fit and seal.

With the tubing located at the top of the head, DreamWear helps you sleep closer to your bed partner—and gets rid of the hose nose in front of your face. DreamWear silicone pillows mask is the lightest tube at the top of the head pillows mask. A unique design directs airflow through the frame of DreamWear, allowing the tubing connection to be located at the top of the head. This allows you to sleep in any position you want—on your stomach, side, or back.DreamWear's unique design keeps the mask off your nose bridge, creating an open field of vision that lets you wear your glasses before bed, read a book or watch TV. Since the mask stays off your nose, it also means less redness and discomfort on your nose bridge.

Nuance Pro Nasal Pillow mask by Philips
With Gel padded frame. Includes S/M/L gel pillows cushions. Gel pillows platform, designed to help patients succeed by providing a more comfortable and familiar feel.
Reduces need for re-adjustment-High-performance look with non-slip headgear stays in place throughout night. Reduces nasal irritation-Conforms to different size nostrils with Gel pillows provide greater comfort and seal and should fit comfortably under patient's nose. Light-weight, flexible tubing-Less pull on the mask, ideal for patients that want to sleep freely. Easier to assemble, disassemble and use than leading pillow masks.
Brevida by Fisher Paykel
Designed for confidence and built for comfort-Gaining patient confidence is key to successful CPAP therapy. And patient confidence begins with a mask that fits and is comfortable.
The innovative F&P Brevida-The AirPillow™ seal inflates to form a gentle 'pillow' of air and seals in and around the nose. A quick and easy fit-Brevida includes a simple, adjustable headgear to deliver an individual fit and is designed to stay in place during sleep.
Full Face Masks
DreamWear Full Face mask by Philips
Like wearing nothing at all-With the freedom and comfort of DreamWear Full Face, you can sleep how you want.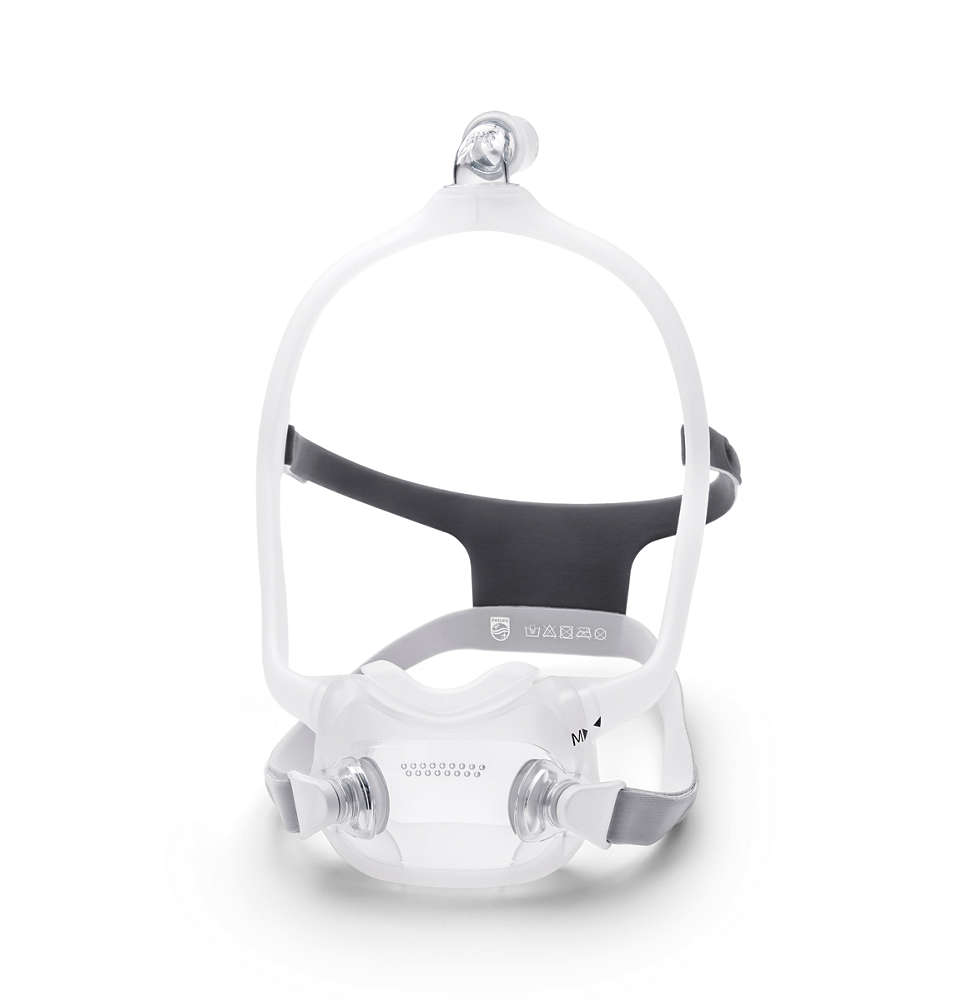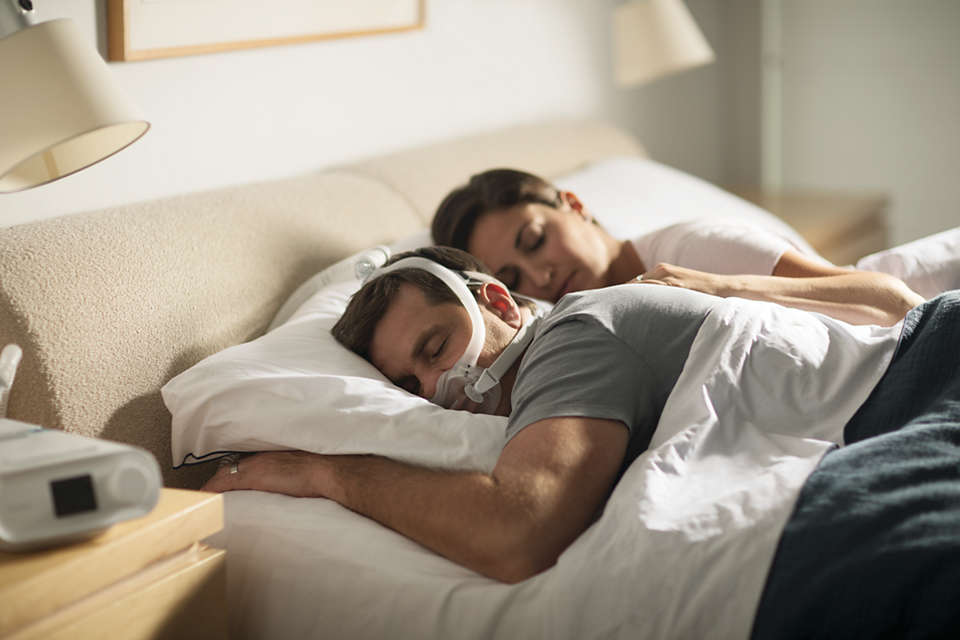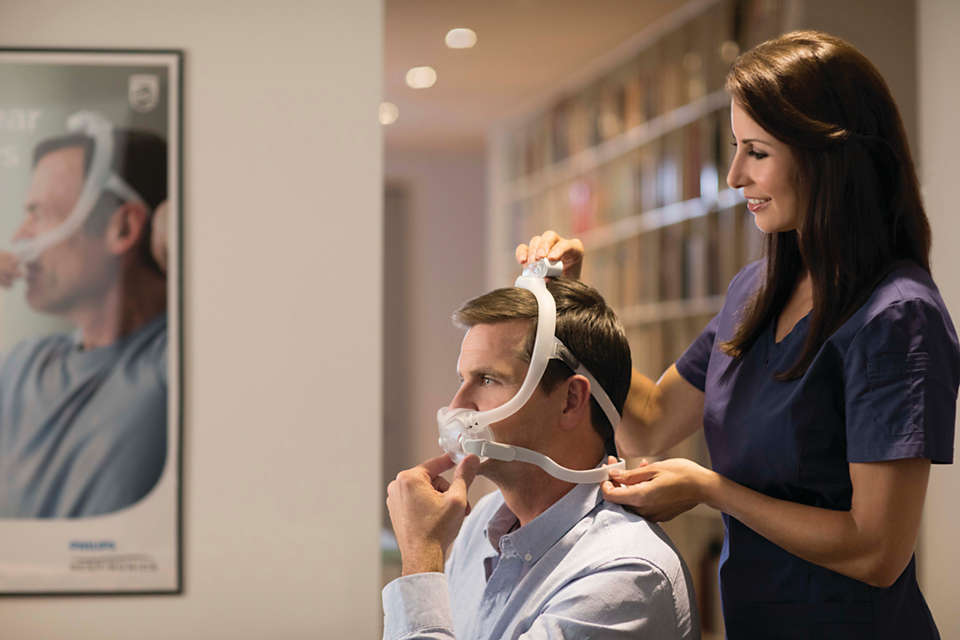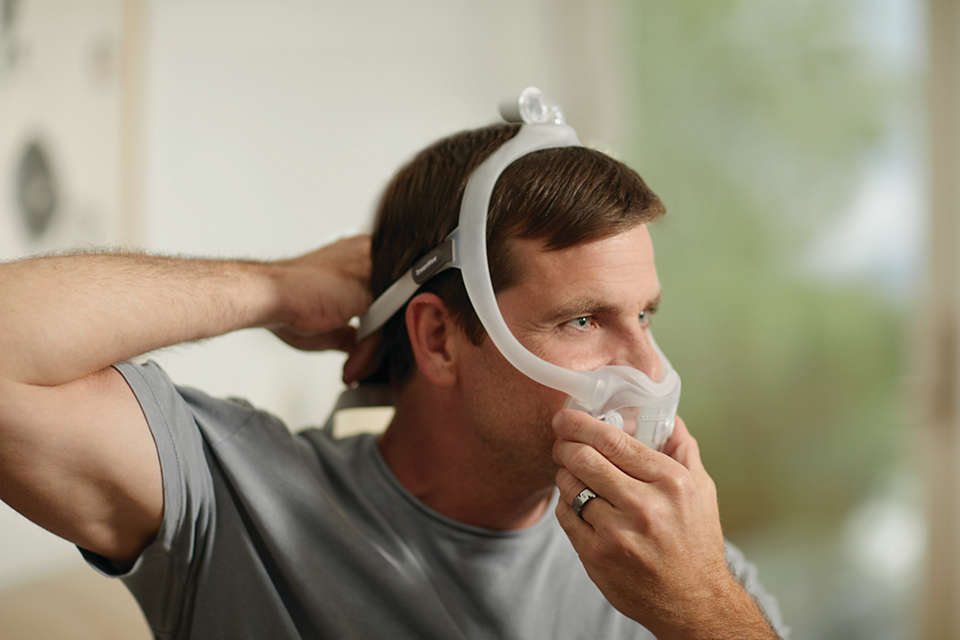 Freedom of Movement-By moving the tube location to the top of the head, DreamWear Full Face offers more freedom of movement during the night. Users stated they didn't need to choose a sleeping position when wearing DreamWear Full Face. Under the nose full face cushion-The under the nose innovative design of the cushion means no more red marks, discomfort, and irritation on the nose bridge. Open design offers a wide field of vision-Open design makes it easy to wear glasses, read, watch TV, and use a computer or tablet before falling asleep.**
Simplus Full Face mask by Fisher Paykel
Experience the Full Face Revolution-The F&P Simplus incorporates three key components, the RollFit™ Seal, ErgoForm™ Headgear and Easy Frame, all designed to work in harmony. In combination, these components offer the comfort, seal and easy use that Fisher & Paykel Healthcare masks are known for.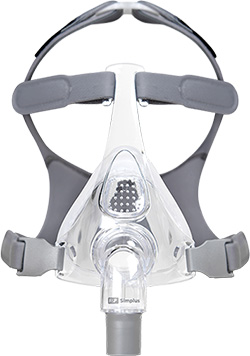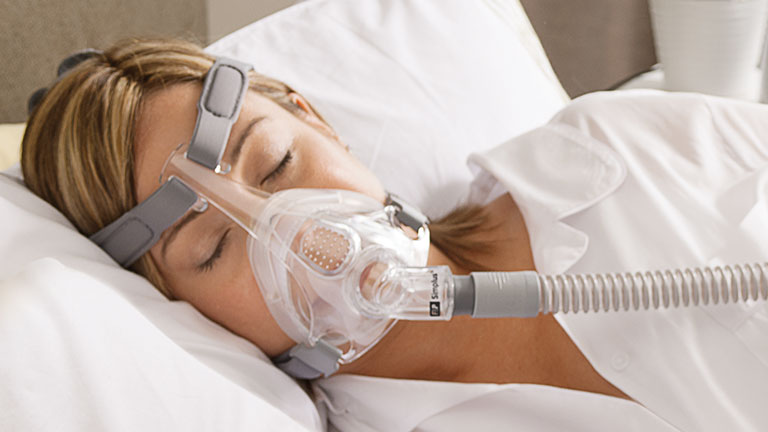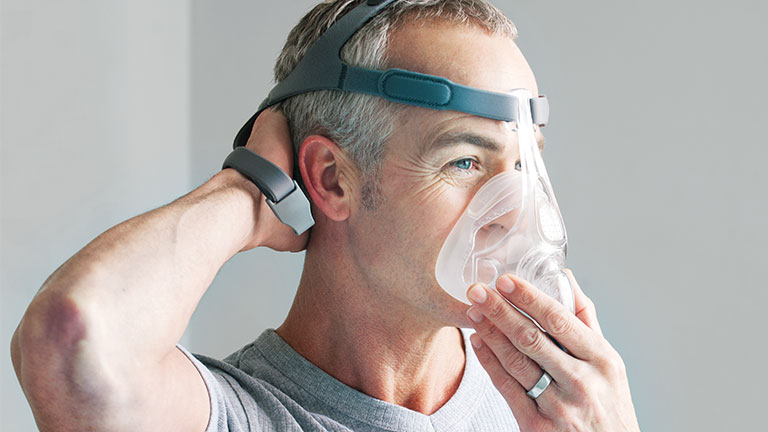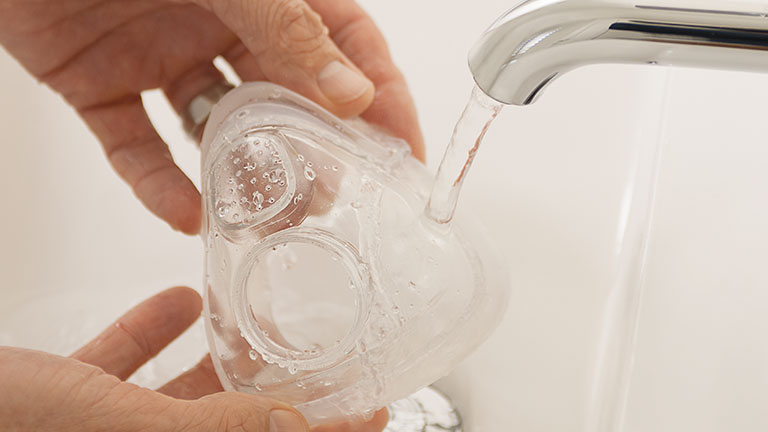 Simplus Fits + Performs-The F&P Simplus is the result of intensive research and development, many prototypes and thousands of design hours. We consulted patients, equipment providers and clinicians from around the world to develop a mask that simply fits + performs. Simply Fits: Fast-Only 3 adjustments required to effectively fit the F&P Simplus for the first time. Simply Cleans: Quick + Easy-With a minimal number of parts, the Simplus has a one-frame-fits-all-seal-sizes and an 'Easy-Clip' Frame attachment for effortless assembly after cleaning.
Vitera Full Face mask by Fisher Paykel
Redefining Mask Performance-With the patient at the center of our design philosophy, the key focus areas for Vitera's design included stability, adaptability, and breathability. We believe that mask performance is multi-faceted and that the technologies within the Vitera mask work in harmony throughout the night for effective therapy and ultimate comfort. Successful CPAP therapy begins with choosing the right mask.1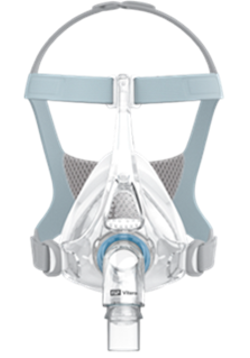 Stable and secure with Dynamic Support Technology-The zone of support provided by the stability bar allows the RollFit™ XT cushion to adjust and seal dynamically. Freedom to move with RollFit XT-The RollFit XT seal allows the mask to dynamically adapt as patients move during the night, keeping the seal in place, as well as reducing pressure on the bridge of the nose. The RollFit XT seal extends 93% further than the previous generation RollFit seal. Keep cool and comfortable with VentiCool-Vitera headgear features proprietary breathable fabric that allows 21 times more airflow and 35% more moisture transfer than the material used in our leading range of full face masks.
Evora Full Face mask by Fisher Paykel
The next generation of Dynamic Support Technology-The F&P Evora Full mask features are uniquely designed to optimize performance throughout the night. Dynamic Support Technology combines Stability Wings with the Floating Seal to allow for freedom of movement while keeping the mask comfortably in place.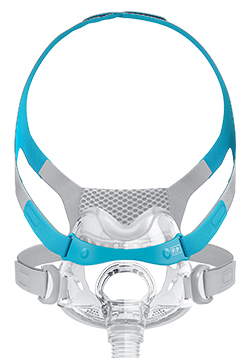 Secure Comfort-The floating seal accommodates for movement while the soft silicone gently wraps under the nose for a comfortable night's sleep.
Headgear with VentiCool™ Technology with removable frame-clip and minimal noise